May 2013 Enews

A Message from Our Founder...Campus Highlights...Money on my Mind...Voter Suppression...NY Lobby Day...Happy Graduation...Facts You Can Use...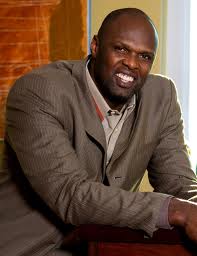 A Message from Our Founder
With this final ENEWS of the year, I want to congratulate Democracy Matters students for finding creative and effective ways to fight for a deeper and more inclusive democracy. You've mobilized young people to lend their voices to the national effort to win public campaign financing – the reform that can make government of, by and for the American people a reality.
This has been an especially exciting year. The country is more concerned than ever about both growing economic inequality and the disastrous funding of campaigns by big money. DM students are leading the way by mobilizing young people to fight against the hijacking of our democracy.
Next Fall we will be back on campuses throughout the country, part of the growing movement to get big private money out of politics and people back in. I'm looking forward to working with you again as we transform America with fair elections.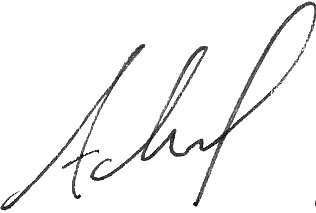 ---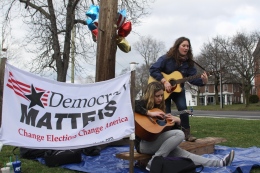 Campus Highlights: April Week of Action
DM chapters held so many terrific actions that we couldn't just pick one "highlight." So along with all the tabling, flyers, discussions, poster campaigns, and chalking, here's a sample of some specific events:
Morrisville University (PA) – Held a Donuts for Democracy tabling, published two articles about money in politics in the school paper, and screened the public campaign finance documentary, "Priceless," followed by discussion with DM Executive Director, Joan Mandle.
Brown University (RI) – Screened the anti-fracking documentary, "Gasland," and held their Annual Student Engagement Conference with other RI campuses.
SUNY Brockport (NY) – Organized a "House Party" discussion of Fair Elections and held a dance performance accompanied by a reading about democracy.
In Connecticut, DMers at both Wesleyan and Southern CT State University, in collaboration with CT Common Cause, screened the Bill Moyers documentary, "The United States of Alec" and held discussions after the film.
Union College (NY) - Sponsored a well-attended lecture by NY Senator Breslin and participated in DM Lobby Day for Fair Elections in Albany.
University of Wisconsin campuses at River Falls, Eau Claire and Madison hosted a local state representative, screened "Priceless," wrote letters to legislators, and organized "coffee and conversation" discussions of money in politics.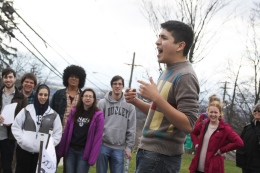 SUNY Binghamton (NY) – Collaborating with Citizen Action of NY, DMers rallied outside the office of NY Senator Libous who has refused to schedule a meeting on Fair Elections with his constituents. They called him out on this, and put tape over their mouths to symbolize that their voices have been silenced.
Florida State University and Boston University – Spoke on their campus radios, screened "Iraq for Sale," and collected student signatures on petitions calling for getting big money out of politics and people back in!
Marshall University (WV) - Organized classroom DM raps, worked with the WV campaign for Clean Elections and met with their state senators.
SUNY Geneseo (NY) – Organized a "Rally for Fair Elections" at their County Courthouse with music, food, slam poets, and information about public campaign financing in New York. Attendees wrote letters to their state legislators about living wages, education, student loans and the environment, stating "in order to tackle these issues, NY needs Fair Elections."
Read about the Geneseo Rally here.
More Action Campaigns.
Photos courtesy of Courtney Dunn.
---

Money on my Mind
Though over 90% of Americans say they want some gun control legislation passed, Congress has refused. The disconnect between the people and their representatives is nothing new. Jay Mandle this month explores how it is that money spent by gun rights groups and gun manufacturers swamp efforts at reform.
Read the full article and explore other issues of MOMM.
---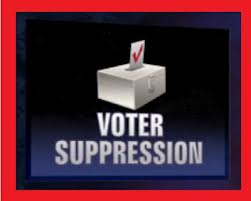 Voter Suppression Attempts Continue
Seventy-five new voting restrictions have been introduced in thirty states so far in 2013. North Carolina may be the worst offender with efforts to end same-day registration, cut early voting, and punish parents of students who register to vote where they attend college. None of this should happen in our democracy. We will fight back!!
Read more.
---
New York Lobby Day
The fight for Fair Elections in New York is growing ever stronger – only 8 weeks left. Join us and hundreds of coalition allies in Albany on May 29th. For other grassroots actions you can do, go to http://fairelectionsny.org/partneractions. We need YOU!!
---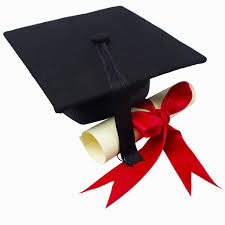 "Happy Graduation"
Best of luck from Democracy Matters to our wonderful graduating Seniors:
Colin Ashwood - Elmhurst College
Kimberly Barbosa Soeiro - Sonoma State University
Evan Bianchi - Syracuse University
Laura Curlin - Brown University
Ashley Goettl - University of Wisconsin/River Falls
Kelly Johnson - University of Minnesota
Geogiana Perelka - SUNY/Brockport
Kate Roberts - Iona College
Nick Sloper - SUNY/Geneseo
Emma Thomas - Gettysburg College
Brian Torres - University of Colorado/Colorado Springs
Abagail Weaver - Millersville University
Michael Weiner - University of Wisconsin/Madison
---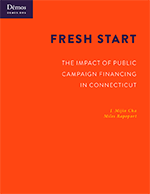 Facts You Can Use: Successful Public Campaign Financing
Our good friends at DEMOS just issued a detailed report on the positive impact that public campaign financing has had in Connecticut since 2005. The key findings were that with Public Campaign Financing:
Legislators get to spend more time interacting with their constituents.
"I could focus on talking to my constituents. Without public funding I would have been fundraising."
Lobbyists' influence begins to decline.
"Before public financing there were 'shakedowns' where lobbyists had events and you as a legislator had to go. That's no longer part of the reality."
More people and more diverse candidates run for office.
"The CT legislature is now more representative of the state's demographics."
Policies adopted are more aligned with the needs of the people.
"Since public funding, CT has passed mandatory sick days, in-state tuition for undocumented students, increased the minimum wage, and much more."
Read the full report.