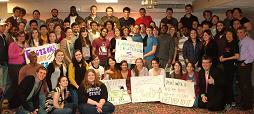 At Democracy Matters' most anticipated event of the year, the National Student Summit, students involved in Democracy Matters chapters across the country come together for three days to explore democratic theory and plan strategies to deepen democracy and student political and civic engagement. Democracy Matters also holds a number of Regional Summits throughout the year. At these Summits, students:
Network and plan with other student leaders. Develop strategies for raising awareness of the problem of money in politics, for taking political action, and for creating campus and community coalitions for reform.
Brainstorm with founder and NBA star Adonal Foyle, Democracy Matters staff, and guest experts about their commitment to student political engagement and their experience as advocates for change in the funding of election campaigns.
Explore the issues in depth through lectures and skills workshops with DM alumni, university faculty, grassroots organizers, and other leaders in the Clean Elections movement.
Learn creative and fun ways of tackling the problem of money in politics. Past Summits have included street theatre performances, workshops on creating social change through music, and a "democracy improv" by nationally renowned comic monologist Josh Kornbluth.
Check out what students are saying about our National Student Summits:
"The best part of the national Summit was having the opportunity to meet 150+ students from across the nation, who come from diverse geographic, political, religious, socioeconomic backgrounds, from so many backgrounds, who can find common cause on the issue of Clean Elections. In a time of extreme political and geographic polarization, DM serves as a bridge, forging a connection and providing hope for change."
"This Summit has given me a lot of confidence, pride, and skills in order to attack head on and effectively the problem of private wealth and big business in politics... As an 18 year old citizen I feel so empowered to change this country for the better."
"I was amazed at the diversity in the group and how people could be civilized in their debating. It was wonderful to be with such different people who were all so passionate about the same thing."
"After being involved in the organization for almost 4 years, it was so exciting to hear from people who had just been hit by the issue."
"The community that I saw has really inspired me to do more than I have been doing. It was so refreshing to meet the staff and other people who are not apathetic and want to make a difference and more importantly they know they can!"
"Now I feel like I have the information down so well that I want to talk with high schools and universities everywhere just to spread the word and start new chapters. I am so fired up and have so many ideas."
"It was very motivational to hear what everyone was doing on campus. There are huge events going on all over the country..."
"The Summit made me realize that Clean Elections would have a positive effect on every aspect of policy making, and now I realize that I can go to the many special interest groups at my school and let them know about public financing of elections."
"The free registration for 3 from each campus is critical, creative, and really impressed my school administration. They saw DM as serious about student involvement."
"It was wonderful to speak to students from all over the country because it lets you know you're not alone."
"It affirmed my belief that change (!) was possible and indeed, is happening on a national level. Meeting other organizers really helped."
"The Summit really 'recharged my batteries' on why Clean Elections are such an important issue. Seeing and meeting people with the same goals was the perfect antidote to rampant apathy on campus."
"It really reinvigorated my desire to keep working for change. Also, Alex's comments reminded me to appreciate the small (and large) accomplishments and to stay strong, focused on the long haul."
"...this is a full-blown movement, not just an advocacy group."
"I can't wait to get back to campus to start implementing some of the great ideas we got this weekend!"