CAMPUS HIGHLIGHT…MARCH MADNESS & DM…MONEY ON MY MIND…CAMPUS ELECTION SCANDALS…FACEBOOK AND TUMBLR…QUOTE OF THE MONTH…EARTH DAY…FACTS YOU CAN USE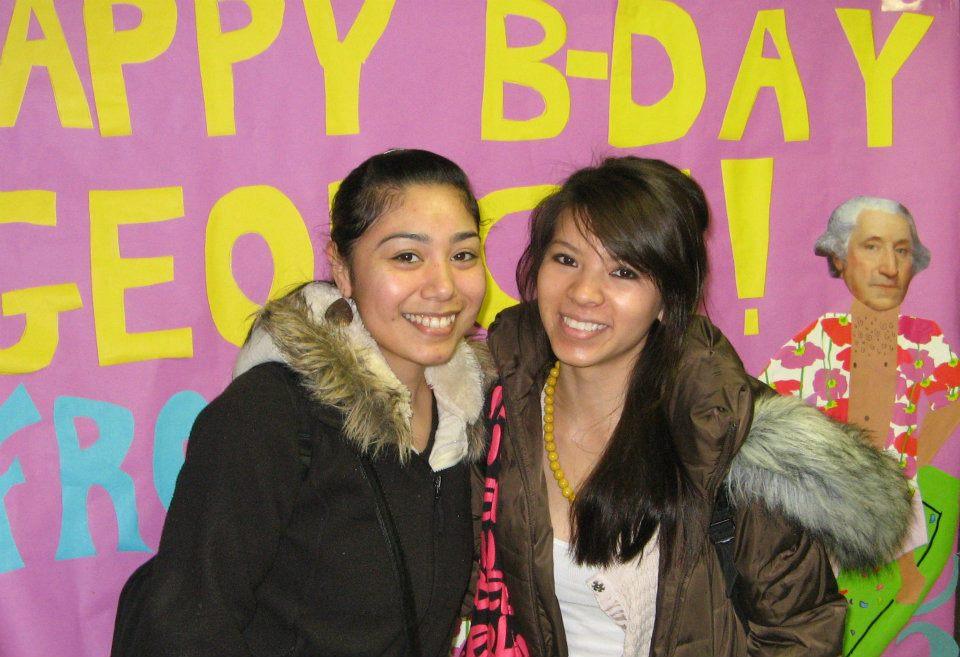 CAMPUS HIGHLIGHT: WAYNE STATE UNIVERSITY
Wayne State University in Detroit Michigan is a new Democracy Matters chapter that has been doing great work all year. They are full of creative ideas! Last month for George Washington's birthday, they created a large poster - "Happy B-Day George!" - with a picture of George surfing. They gave away cookies, took pictures of students "with George," and gave out information on DM. And by liking "Democracy Matters WSU" on Facebook, students could see their own pictures!
A "zombie vs human" skit that they are planning for later this Spring is also very cool. Zombies will be portrayed as corporations to illustrate that they are using their money to harm "real" people. Wayne State DMers have cleverly gotten out the word on the importance of fighting the role of big money in politics.
---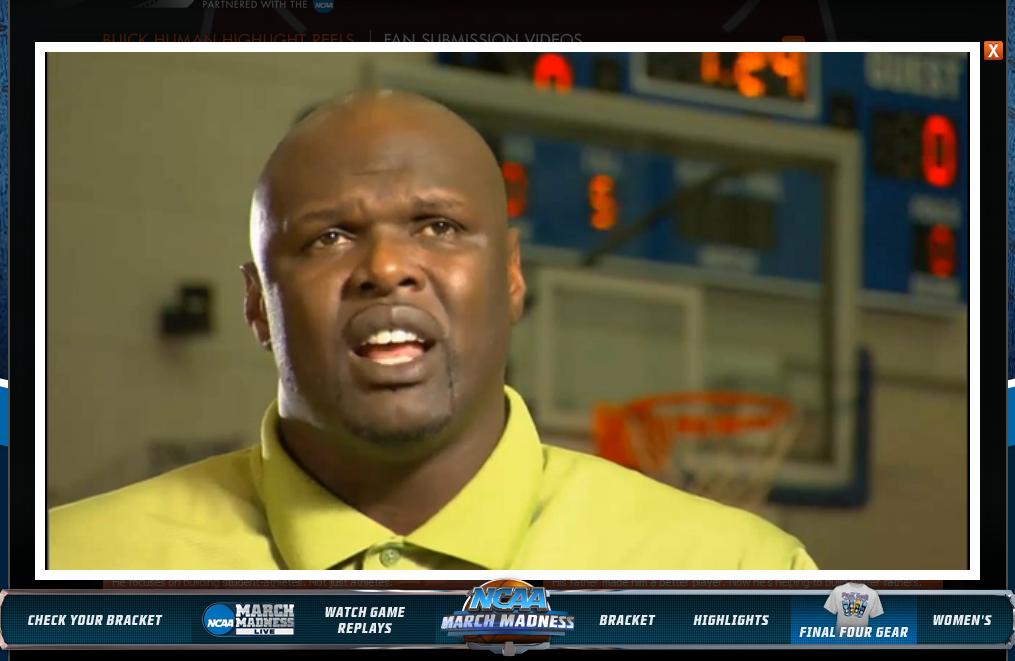 MARCH MADNESS & DEMOCRACY MATTERS
Both Democracy Matters and Adonal's work with children in the Caribbean were featured as part of the TV coverage of March Madness. The video was shown dozens of times. You never know where Democracy Matters will show up! You can view this terrific video by clicking on the link below.
---

MONEY ON MY MIND
In this month's column, Jay Mandle takes a fresh look at the effort to overturn Citizens United with a constitutional amendment. He argues that the effort is not politically viable. The fight for public campaign financing remains the best option to curb the growing power of wealthy political donors.
Read the full article and explore other issues of MOMM.
---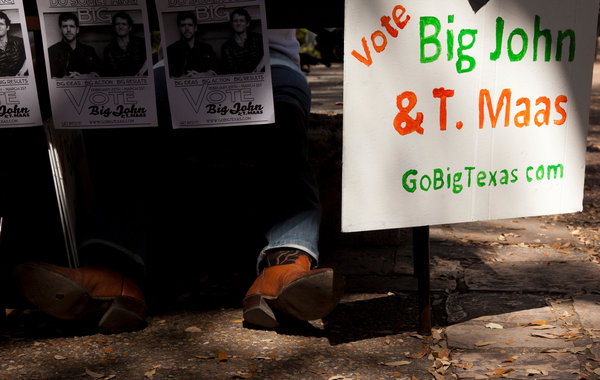 CAMPUS ELECTION SCANDALS
While most election scandals focus on Washington DC, both the University of Texas (UT) and Texas A & M have recently been in the news. Perhaps not surprisingly, these campus scandals too involved money.
At Texas A & M, the student who was elected President of the student government was temporarily disqualified, accused of exceeding the school's $1,800 campaign spending limit. After appealing however the decision was reversed. In a different case, a candidate for the UT student government, disqualified for violating aspects of the school's election code, sued both the school and the state. He paid for the expensive lawsuit with his own money. This led several UT students to charge that those with greater financial resources have unfair advantages in student elections.
What both of these scandals demonstrate is the need for Fair Elections on university campuses. Winning student government elections should not depend on who spends the most money! While some schools limit candidate spending, this still benefits wealthier students who can spend up to the limit. Instead, all colleges should level the playing field with public campaign financing so that everyone has an equal chance to be elected. Fair Elections on College Campuses!
---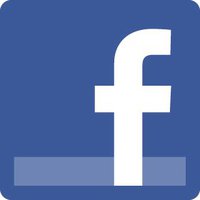 FACEBOOK AND TUMBLR
Be sure to follow Democracy Matters on Facebook and Tumblr. Lots of information, stories, and pictures from our campuses!
---
QUOTE OF THE MONTH, March 27, 2012
"The corrupting influence of money is not limited to bribery - the broader problem is the ability of moneyed interests to put into office those who support their political agendas or financial interests. The flood of money unleashed this election season … has allowed wealthy organizations and individuals to drown out other voices in the campaign."
New York Times Editorial: "When Other Voices Are Drowned Out"
---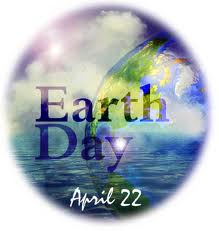 EARTH DAY 2012: April 22nd
Celebrate Earth Day with Democracy Matters! This year is the 42nd anniversary of a celebration that began in San Francisco in 1970 and has since spread around the world. The United Nations and well over 175 countries today mark the occasion. Working with campus environmental organizations, Democracy Matters chapters link money in politics to problems of climate change, fossil fuel dependency, and other threats to the environment. With teach-ins, letter-writing and petition campaigns, and improv theater, students speak out loud and clear about the importance of protecting our earth.
---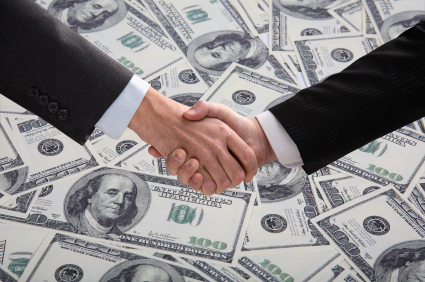 FACTS YOU CAN USE: Guns, Money, and Murder
The shameful murder of Trayvon Martin has riveted the nation. NY Times columnist Paul Krugman provides an important link between the "Stand Your Ground" laws in Florida (and elsewhere) that invite tragedies like that of Trayvon's on the one hand, and an effort by big corporate money on the other hand to move the United States sharply to the Right.
Language virtually identical to Florida's law has been featured in a template supplied to legislators in other states by the American Legislative Exchange Council (ALEC), a corporate-backed organization backed by the right-wing Koch brothers, Exxon Oil, AT&T and others. ALEC has influenced state law-making throughout the country – from union-busting and undermining environmental protection, to tax breaks for corporations and the wealthy, and privatizations of schools and prisons. ALEC is closely aligned with the National Rifle Association and has also played a key role in recent bills making it hard for the poor, young people and ethnic minorities to vote.
Krugman concludes with a passionate call to "take our country back" from the big money that undermines democracy and puts wealthy special interests in charge of our lives. Democracy Matters is proud to be part of that fight.
Read the full article.
More information on ALEC.
---
To honor our 2011 activists, we list 10 Democracy Matters chapters in each E-News:
Vassar College…Wayne State University…Wesleyan University…Binghamton University…Boise State University…Boston University…Brown University…Colgate University…Creighton University…Iona College
More Campus Chapters.