IN THIS ISSUE:
CAMPUS HIGHLIGHT...FAIR ELECTIONS UPDATE...CONGRATULATIONS!...MONEY ON MY MIND...DM IN THE NEWS...10/10/10...FACTS YOU CAN USE
CAMPUS HIGHLIGHT


Revitalizing a Democracy Matters chapter isn't easy -- especially at a school as big as the University of Minnesota. But Tenzin Pelyki is off and running! During the first weeks of school she has been flyering, attending acitvities fairs, contacting former members, and reaching out to other student groups like MN PIRG and campus organizations doing voter registration. She is writing an opinion series on money in politics and "Fair Elections" for UMN's paper. And to jump-start Democracy Matter's visibility on campus, Tenzin, new DM members, and a UMN DM alum "painted the bridge" connecting UMN's Minneapolis and St. Paul campuses with DM's slogan (see photo). Tenzin and the UMN chapter rock!
Take Action!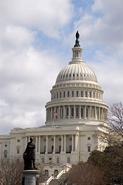 FAIR ELECTIONS UPDATE
On September 23rd a committee of the House of Representatives voted in favor of the "Fair Elections Now Act." This is an historic victory for advocates of returning elections to the American people and limiting the impact of big money. Democracy Matters is proud to have played a role in this huge step toward a government of, by and for the people.
But the fight is not over. We still have a chance to bring the bill to a House vote when Congress returns after the November election. Democracy Matters will continue to gather signatures on petitions urging their representatives to vote for Fair Elections in November!
See the great 3 minute video on Fair Elections by Brave New Films.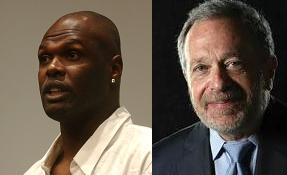 CONGRATULATIONS ALL AROUND
Adonal Foyle, Democracy Matters' founder, Chair of its Board, and recently retired NBA player has just been appointed Director of Player Development for the Orlando Magic. Congratulations Adonal!
And congratulations also to Democracy Matter's partner, Common Cause, celebrating 40 years of fighting for the voice of ordinary people in government. Marking the anniversary, Common Cause announced that former Labor Secretary, Robert Reich, will be the new President of its Board of Directors. Reich, the author of 12 books including his just-released "AFTERSHOCK," brings with him a strong commitment to grassroots organizing. As he recently wrote:
"Here's what I learned during my years in Washington: Nothing good happens there unless Americans outside Washington are sufficiently mobilized, energized and motivated to make sure it gets done!"
Read more.

MONEY ON MY MIND
In this month's column, Jay Mandle argues that we can and should identify with people in any country who seek greater political equality. But we have to limit our role to providing support for their struggle. Mandle concludes that because the military effort in Afghanistan has the opposite effect -- undermining opponents of religious violence and misogyny -- it should be opposed.
Read the full article and explore other issues of MOMM.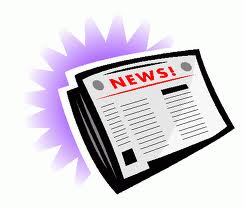 DEMOCRACY MATTERS IN THE NEWS
Newspapers have been buzzing with Democracy Matters news and views. Excerpts below:
Syracuse University – "The Daily Orange" – Sept 16, 2010
"A group of Syracuse University students are advocating fair campaigns and elections by bringing a chapter of a national student organization, Democracy Matters, to campus this fall. "It has the potential to affect so many other issues," said Christina Levin, the campus coordinator for SU and a political science, newspaper journalism and sociology major. "It focuses on the root of other social issues. It focuses on the evil of money in politics."
Towson University - "The Towerlight" – Sept 12, 2010
"Democracy Matters held a water balloon game outside Cook Library on Thursday, Sept. 9, to raise campus awareness of the BP oil spill on the Gulf Coast. In the game, students and other passersby were able to throw water balloons at a Democracy Matters member dressed as a corporate employee of BP. Democracy Matters is a non-partisan club trying to raise political awareness among young people. The club supports civic engagement, voter registration and encouraging fair elections."
Democracy Matters' Executive Director, Joan Mandle, "The Albany Times Union" - September 23, 2010
"With the enormous problems facing our society – from high unemployment and increasing poverty to cuts in local and state government spending, from a slumping housing market to the threat of global warming -- we need representatives who respond to the needs of their voters, not their donors. We need to reverse the enormous cynicism about money in politics that has produced ever-lower voter turnout for elections. And we need to make good the promise that anyone can run for office – not just those who are wealthy themselves or tied to special interests. We have to ensure that the House of Representatives passes this game-changing reform and restores to us a government of, by, and for the people.
Boise State University - "Arbiter On-Line" - September 17, 2010
"Register to vote over here. It's fast. It's easy. It's sexy." Gus Voss' unconventional call to action got students lining the Democracy Matters table on the Quad, filling in voter registration forms, learning about campaign finance reform, and spinning the Constitution Day wheel to win small prizes after answering trivia questions. Headed by Voss, Democracy Matters aims to increase civic engagement among students, which was why Voss decided the drive would be a good first event."
Read more.
10/10/10 - STANDING UP FOR THE ENVIRONMENT
Democracy Matters chapters will be joining with others in marking the October 10th international environment day. The goal is to tell politicians that we want real action and real solutions to deal with global warming, deep-sea drilling, the use of non-renewable fossil fuels and other environmental issues. DM will be part of the 4,174 events in 171 countries that mobilize grassroots citizens for change.
Read more.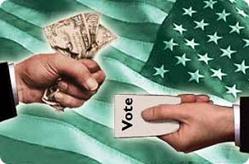 FACTS YOU CAN USE: The Tip of The Iceberg - Selling Military Contracts
Lobbyists linked to the abuse of campaign contributions is nothing new. That this one got caught only shows how widespread the practice is and why we need "Fair Elections"!
On September 24th, the Associated Press reported that a former lobbyist who helped clients secure more than $100 million in military contracts pleaded guilty to illegally funneling more than $380,000 in campaign contributions to House members controlling the Pentagon's budget.
The ex-lobbyist, Paul J. Magliocchetti, 64, of Amelia Island, FL, faces up to 15 years in prison. In 2007 and 2008 alone, three top Democrats on the Defense Appropriations subcommittee — John P. Murtha of Pennsylvania, James P. Moran of Virginia and Peter J. Visclosky of Indiana — directed $137 million in contracts to Mr. Magliocchetti's clients, typically through the special budget appropriations known as earmarks. Before becoming a lobbyist, Mr. Magliocchetti once served as a subcommittee staff member and an aide to Mr. Murtha. Mr. Magliocchetti admitted as part of the plea bargain that from 2005 through 2008, he used family members, friends and lobbyists to route $386,250 in illegal campaign contributions. In all, Mr. Magliocchetti pleaded guilty to two counts of making illegal campaign contributions and a third count of making false statements to the Federal Election Commission. Prosecutors agreed to drop eight other counts as part of the plea bargain. His son, Mark Magliocchetti, had already entered a guilty plea on related charges.
Read more.
To honor our 2010 DMers we list 10 DM chapters in each E-News.
Gustavus Adolphus College...Hampshire College...Iona College...Ithaca College...Jackson State University...Loyola University New Orleans...Manhattan College...Marquette University...Northern Illinois University...Queens College...(to be continued)