"Money On My Mind" is a monthly column by Jay Mandle. The views expressed here are those of the author, (not necessarily those of Democracy Matters or Common Cause), and are meant to stimulate discussion.
November 2006
By Jay Mandle

The system of higher education in the United States has long been considered the best in the world. Our status in this regard did not happen by accident. In the past, university education was the beneficiary of important public subsidies. Most famous in this regard was the G.I. Bill of Rights, passed in 1944. With this legislation, almost 8 million former soldiers received educational benefits, including subsidies for tuition, books and supplies, equipment, and counseling services. As Daniel Schugurensky writes, with the G.I. Bill "the idea that higher education was the privilege of a well-born elite was finally shattered."1

Unhappily, our political system has now retreated from this commitment to egalitarianism in education. We can see this retreat by examining trends over the last decade in federal government support for college students. Table 1 provides data for the three federal programs that together comprise about 60 percent of government support for undergraduate students. Two of those programs provide subsidized loans, while Pell Grants do not require repayment.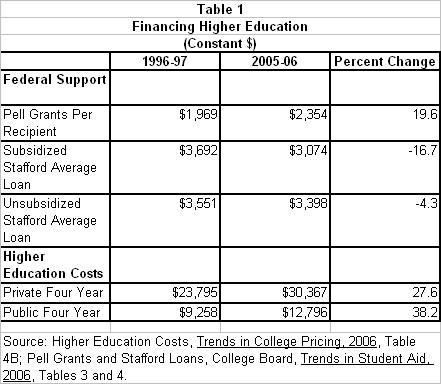 These data reveal a depressing story. Since 1996, as university tuition, fees, and room and board increased sharply, the average Pell grant increased by only 19.6 percent. Even worse, the amount of the average loan offered to students actually decreased in size. This decline was greatest in the loans program that provided the greatest benefit to students, subsidized Stafford loans.

Since this was a period in which household incomes barely increased at all, the combination of rising college costs and declining availability of government support meant that college students and their families were forced into the commercial market to obtain the money for education. As a result, private sector loans to finance college attendance sky-rocketed, growing from about $2.3 billion in 1996-97 to $17.3 billion in 2005-06. With the retreat of subsidized loans and the shift by students to the commercial market, it comes as no surprise that college graduates have become heavily and increasingly in debt. The median debt level for students attending public universities in 2003-04 was $15,500, 29.2 percent higher than it had been in 1995-96. For graduates from private institutions it was even worse. Debt stood at $19,500, 61 percent higher than it had been in 1995-96.2

Obviously all of this is very bad news for the students involved, especially for those from low income households who have to pay for their own education. Experiencing financial pressures that were unknown to students in an earlier era, they increasingly emerge from college staggering under onerous financial obligations that distort their family and career choices.

But these trends are not only bad for the students involved. They also are bad for the country. The growing financial burden of paying for college has contributed to a substantial slow-down in the growth of higher education in the United States. In turn, this slow-down has meant that our global position as leader in higher education is seriously eroding. Among younger adults (ages 25-34) we now rank behind Canada, Japan, Finland, Sweden, and Norway in the percentage in this age group with higher education degrees, while Norway, Belgium, Korea, Ireland, Spain and France are rapidly closing the gap.3 At a time when success in an increasingly globalized economy depends on a well-educated population, this relative decline is particularly alarming.

It is not hard to find the culprit in all of this. The cutbacks in political support for advanced education represent the priorities emerging from a political agenda set by wealthy political contributors. These campaign donors, after all, are people who have no need for financial support in paying for their own children's education. The United States needs and could obviously afford a beefed-up subsidy program that would reverse our relative decline in educational attainment and restore our commitment to equality in education. America is a much richer country than it was in 1944 when the G.I. Bill was adopted. But such a restoration is unlikely so long as our political system is financed by and therefore primarily responsive to campaign contributors.

Last month I argued that with a system of public financing of election campaigns we would probably have a more rational defense budget. Precisely the same case can be made concerning education. With public funding of congressional races it is very likely that the federal government would once again provide extensive support for students seeking a college education. Doing so would benefit student recipients and the nation as a whole, while making real the promise of educational equality.

1. Daniel Schugurensky, "History of Education: Selected Moments of the 20th Century," http://feis.oise.utoronto.ca/~daniel_sch/assignment1/1944gibill.html.
2. College Board, Trends in Student Aid 2006, Tables 1 and 2 and Figure 4A.
3. Alan Wagner, Measuring Up Internationally: Developing Skills and Knowledge for the Global Knowledge Economy (National Center for Public Policy and Higher Education, September 2006), Table 9.